People who make buying decisions have hundreds of unread emails in their inboxes. I actually have 700 in my work mailbox, and I don't have a CEO title yet :)
Usually, you need to send at least 3 emails to make sure they ignore you because they aren't interested rather than just missing or forgetting about your email.
Prospecting email sequence helps to send the chain of emails automatically. It saves a ton of time when reaching large markets.
There is no unified recipe for each business about the time, frequency, threading, and content of the auto follow-ups. A 3 email sequence might be too little for big deals and a narrow market, while 13 automated follow-ups might not be worth it for some companies.
So we are here to break it down.
What an email sequence is
An email sequence is a prescheduled set of emails. The messages are consistent and intended to reach a common objective, e.g. to get a reply or motivate clicks. Each email is a pre-written message for a specific recipient's reaction. The scheme shows the logic:
2 main types of email sequences:
Type 1: For sales, also known as auto follow-ups. Used in outbound and inbound email campaigns to start communication with a prospect and generate demos and sales calls. For example, here are the sales emails I got after filling out the demo form at Amplemarket.
Type 2: For marketing, also known as a drip campaign. Typically email marketing sequences are mass email campaigns with thousands of recipients. Their ultimate goal is to educate and warm up leads who aren't ready to buy yet. Here is an example from Zapier. The emails I've got since I registered in their tool.
For the categories, you need separate tools for proper deliverability, and different content formats look.
You can make B2B email sequence a part of your multi-channel outreach or focus on the email channel only. You may want to go for the latter if you have a large market and aren't ready to scale your revenue team. It also may turn out that email is the best channel for your audience.
4 email sequence templates
Template 1. Signed-up leads — sales-assisted SaaS
Template 2. Outbound leads — sales-assisted SaaS
Template 3. Signed-up leads — sales-heavy SaaS
Template 4. Outbound leads — agency
Template 1. Signed-up leads, sales-assisted SaaS
This is a GetProspect sales email sequence template. We focus our sales efforts on signed-up leads. We have a large market of potential customers, so we decided it is reasonable to have 3 emails in a sequence. Our content is product-focused because the customer is already product-aware and has probably started using it.
Out of thousands of sent emails, we get a 50% open rate and 1% demo booked right after the email campaign sequence on average.
Template 2. Outbound leads, sales-assisted SaaS
Here, we picked the PandaDoc case with its perfect personalization at scale. They took the list of company representatives who attended the conference PandaDoc was at too, and created the cold email sequence template. They send 4 emails in 20 days. The first 3 emails are in one thread.
Template 3. Signed-up leads — sales-heavy SaaS
When I registered in UpLead tool, I got the email follow-up sequence above. The one thing I could say bad about the sequence is that the messages are too long. They also cover several topics at once, which might be a little confusing and not lead the customer to the expected action. Still, it is one the best outreach sequences I got.
Template 4. Outbound leads — agency
The b2b email sequence from the Left Productions video-making agency. Since they are targeting creative departments, they use gifs in most emails.
In this case, the company picks the most qualified leads that show buyer intent. Likely, recipients are unaware of your brand. You need more reasons to convince the recipients your product is worth trying. So the email campaign sequence is longer here. The company sends around 6 emails over 2 weeks.
Here is their flow.
Best email marketing sequence example
It doesn't make sense to lose low-qualified leads. No response ≠ no interest. You may be surprised how many people come back 8-12 months after your first message.
At the same time, it isn't worth the salespeople's time to maintain constant communication during this time span. Here is where nurturing email marketing sequences are really helpful. It typically contains far less personalization for subscribers and more of a newsletter look. It includes useful content generated or curated by your team, product tips, webinar invitations, etc.
The main marketing sequence objective isn't to sell but to stay at the top of the prospect's mind. As a result, he will recommend you or return to your product themself as a highly qualified lead.
You probably have an enormous amount of email sequence examples from various companies in your inbox. To see the full sequence and discover how it is made, you can search for the company's name in your inbox. You will see the frequency, times, content, design, etc.
For example, here is what Airtable has sent in their newsletter since registered in their tool. Emails are sent every 1-5 days.
How to create an email sequence
Define the sequence objective and KPIs

Segment your b2b email sequence

Define sequence timetable, frequency, and length

Map the sequence flow

Write email sequences — tips

Set the campaign in the email automation software

Run the email campaign sequence pilot
1. Define the sequence objective and KPIs
Yes, the ultimate goal is to have deals out of your email campaign. Yet, the ways to reach the goal differ for each buyer journey stage and type of business. With the specific sequence objective, it is clear what content to create, how many emails to send, what triggers to leverage, what metrics to measure, and when to stop your email campaign.
For example, the best email sequences' objective for pain- and product-unaware leads will be to educate them about the problem/product — click the link, and test the product. While for leads who are aware of the type of solution you offer, your sequence goal might be to book a demo.
The objective also might be to get a referral, feedback, to network, etc.
The next thing to do is to uncover the exact numbers by which you will gauge the success of each email in sequence and the prospecting email sequence in general. You may want to set the open rate, reply rate, click rate, demos booked, etc.
To know approximate targets, take your previous data or check industry benchmarks and cases.
Considering that it hugely depends on the industry, your business, and your objective, the good metrics for cold emails are >40% open rate and 10% reply rate.
2. Segment your b2b email sequence
First, turn to your ideal customer profile to implement it in your sequence. Check our series on the ideal customer profile if that isn't the case.
Next, as a part of personalization, you may want to have several narrower groups of prospects and create slightly different emails for them. For instance, you group them based on their online activities (engaged with a Linkedin post), buying triggers (started actively hiring for a department you are selling to), your commonalities (attended an offline industry conference, alumni of the same university), or where you met (again at an online or offline conference).
In case you have plenty of inbound leads at different buyer journey stages, you will tune your sequence for each stage or even create completely different email sequence templates for each qualification level. For instance, one segment will have more educational materials related to the problem and solution and the other will have more product-related materials. You will move highly qualified groups of leads for manual outreach.
Tip: find a prospect email + create groups right in your LinkedIn tab
GetProspect extension allows you to add prospects with contacts to a particular list on the way
3. Define sequence timetable, frequency, and length
Time. The approximate time ranges come from thorough customer analysis. What is their typical daily routine? E.g. many salespeople find that Friday afternoon is a good time to contact C-levels. They are finishing their work and are in a good mood waiting for the weekend.
Once you get the first opens, you can reset the b2b email sequence timetable based on the time they tend to check your emails.
Frequency. If you have a large market and need to qualify the prospect list faster, you may send up to 3 emails daily to each prospect. While the more common practice is the first follow-up in a day, then in a few days, then in a week, then again in a week.
Consider the specific characteristics of various regions. I mean, more frequent emails might be acceptable in the USA. While in Japan, they may expect follow-up emails at a 2-week interval.
Email sequence length. The average practice is 7-8 emails. Define the parameter based on the deal and market size. On the first email, you have a 30% chance of getting a response, and on the eighth email, your chances decrease to 10%. As a result, in some cases, you will distribute your efforts more efficiently by contacting people only 1-3 times.
Yet, the pre-defined length shouldn't be set in stone. We recommend testing it and refining it based on what time, frequency, and number of follow-ups are winning in your case.
4. Map the sequence flow
The step helps you structure the info you collect at previous stages and design the email sequence ideas for each prospect segment and reaction. Here is how it may look.
As a chain of messages. Actually, this one is positioned for high-ticket products.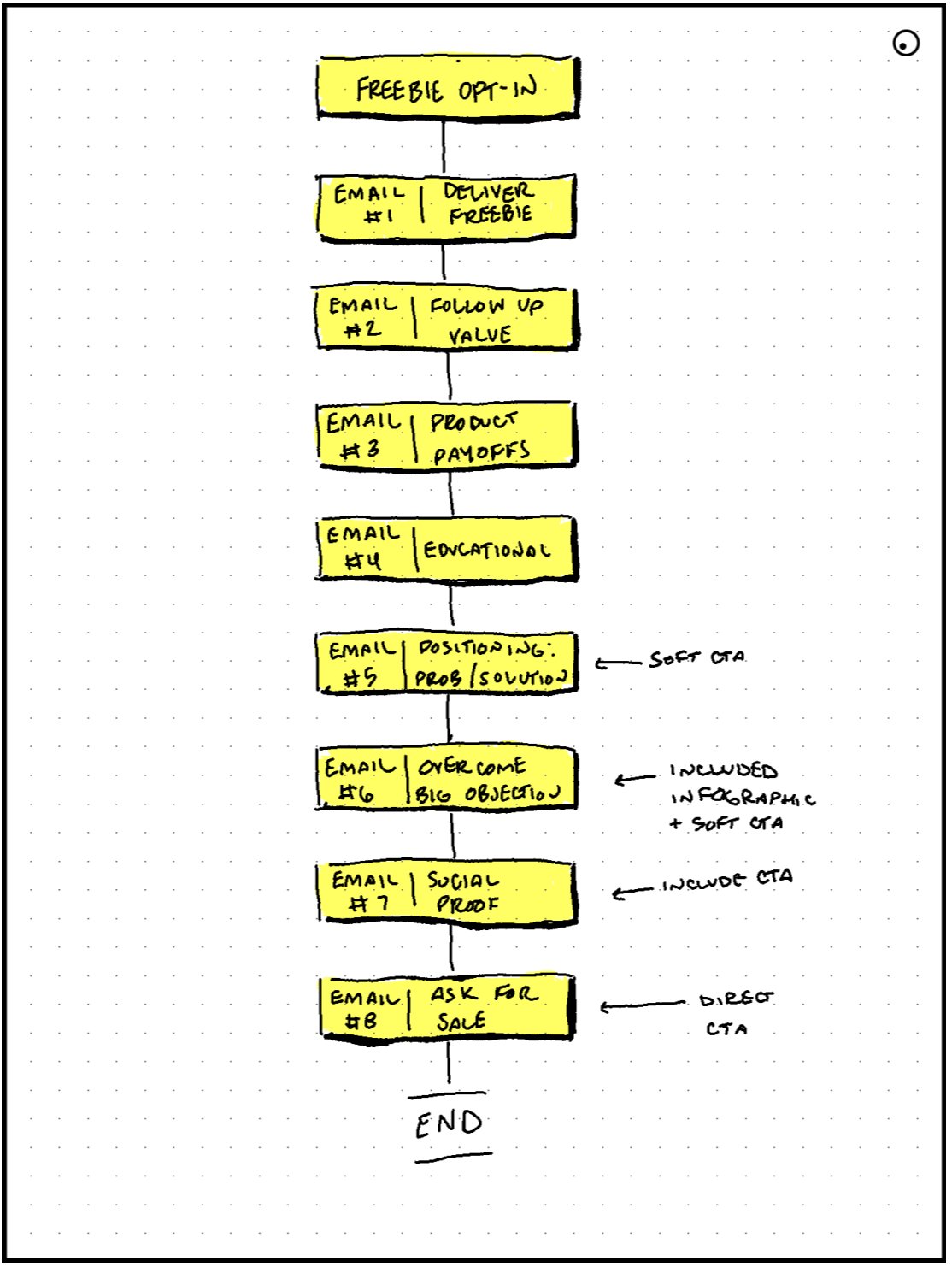 Source: Jeff Felten.
Or a trigger-based tree scheme.
5. Write email sequences — tips
Make a point of the subject lines for each email. This is the reason why your emails will be opened.

Each following email should add to the information from the previous one. In case the first email is a pitch, the following emails may be your case study with a big brand or company from their industry, handling one of the objections, honest customer review, problem-related materials (such as reports, threads, posts, videos), free benefit from your product (e.g. SEO website audit), etc. Note, we are talking about only one email campaign sequence. Sure, you can repeat the info in other outreach channels.

At least try to stand out with wording and phrases. By avoiding overused email body structures and replacing mainstream words with synonyms, you can bring far more attention to your campaign. At least, remove the salesy words such as «success», «double revenue», «beneficial», «feel free», «you're going to love», «super interesting», «just wanted to ask», «happy to chat», etc.

Limit the number of emails with «just following up» content in your sequence examples. There may be one such email after the first one, or alternate it with «valuable» emails.

Add some human touch to the emails. For instance, share your personal story, feelings about the professional problem they may also have, ask thoughtful questions about their work.
6. Set the campaign in the email automation software
69% of sales professionals pointed out that sales engagement software is very important in their routine.
Setting an automated email sequence in email software, first of all, take care of your email deliverability:
Important: there are technically different tools for email marketing sequences and cold email sequences. Choosing the wrong one for your case may result in poor deliverability results.
Next, you take your sequence map and content and start filling it into the software. You also can set up A/B testing to get an idea of what subject line, openers, CTA, or another email tactic performs better.
7. Run the email campaign sequence pilot
Might be obvious but important to mention. You are about to send tens or hundreds of emails, so we recommend testing how the sequence will look and behave in the real world.
You can engage your colleagues and send the sequence to them first. Make a point of how the emails look across devices.
What makes an effective email sequence
Tip 1. Continuous testing. Experiment with different content to audience segments, change the email order, try email threads or send each email separately.
Tip 2. Real-time tracking. It allows you to quickly uncover unexpected spikes and drops in data and fix the sequence. Analyzing the data, you will also optimize the email campaign sequence by removing emails that bring zero opens and replies.
Tip 3. Avoid fixed email intervals, e.g. every 2 days. It may be suspicious for recipients' email providers and your messages will go to spam.
Tip 4. Try fewer questions and offers and more pieces of value to the prospects. What problem does your product solve? Go and find content that solves the problem. Interview your audience representatives on what content they find helpful to prove your hypothesis about what might be of value to them. It positions you as an expert and builds trust. When you come the next day with a question or demo offer — you have far higher odds of a positive outcome.
Tip 5. Sometimes, it's better to outreach manually and the email sequence campaigns are ineffective. For example, when you have a small pool of enterprise clients. You will craft your message for each person from the company. Yet, it is a good idea to think over possible content in advance too.
Summary
Differentiate sales and marketing email sequence campaigns. They need individual approaches and tools

The email sequence objective impacts the content, frequency, triggers, and metrics by which you measure the campaign success

Create different email series templates for each buyer journey stage

Segment recipients for personalization at scale. Segment examples: based on their online activities, buying triggers, your commonalities, or where you meet

Define sequence length based on market and deal size. The average email sequence length is 4 emails.

To build trust and reach your objectives, add helpful and convincing content with each email.

Sign up or request a demo from competitors and examine their outreach sequence templates. You will understand how to stand out and what words and structures are overused and better be replaced in your sequence

Take care of campaign settings for good email deliverability

Run the email sequence pilot to make sure everything looks and works as you expect